NEW BMW 8 SERIES FOR SALE IN MECHANICSBURG

The Pinnacle of Performance and Extravagance: The BMW 8 Series in Mechanicsburg, PA
The BMW 8 Series triumphantly returned to the streets of Pennsylvania recently, after a hiatus since 1997. These coupes and convertibles emerged with new styles and new features to bring them into the modern age, with a stirring performance and a comfortable front interior. Whether taking friends on a scenic tour of the city, or heading to your local racetrack area for some adrenaline-filled thrills, we encourage you to check out the newest BMW 8 Series models. Choose your next coupe or convertible from our new inventory and check out this phenomenal series of luxury sports cars today here at Sun Motor Cars BMW. Customers will find us located less than a half-hour away from Harrisburg at 6691 Carlisle Pike in Mechanicsburg, PA.
New BMW 8 Series Inventory
Horsepower and Comfort, Like Never Before
If you consider yourself a die-hard fan of the BMW brand, you might recognize the name "8 Series" as brand champions during the 1990s. After a hiatus, the 8 Series returned to our streets with a sleek new design, trading in the previous two-seat coupes for four-seat models that come available as coupes or convertibles. Each features upgraded turbocharged BMW powertrains and a host of new technologies to bring the 8 Series into the present and the future of luxury sports cars.
Driving Towards Safety and Autonomy
While a great many of these flashy new technologies can provide hours of infotainment, your safety and protection come first. As with all the other latest BMW models, the 8 Series features a host of high-tech driver-assist features made to prevent accidents from occurring. Many of these features belong to the BMW Active Guard, utilizing individual sensors and cameras to monitor traffic conditions in York, PA. The Active Guard even controls certain vehicle functions in order to prevent collisions through applications such as Frontal Collision Warning, Automatic City Collision Mitigation, and Daytime Pedestrian Detection/Braking.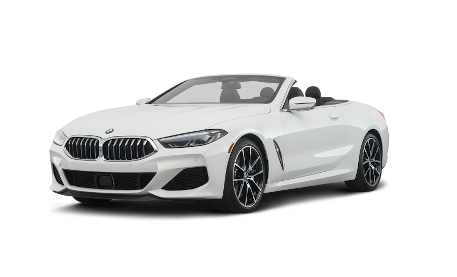 Boosting Comfort and Convenience
While the performance of the BMW 8 Series practically demands the racetrack, its onboard amenities will keep your passengers coming back for more. Through the Advanced Vehicle and Key Memory, you can prep your 8 Series coupe or convertible to make way for your arrival, with programmable settings for your most-recently-used climate, seating preferences, audio settings, mirror positions, and ambient lighting preferences. The interior BMW Extended Ambient lighting extends to many areas of the car to provide a welcoming effect, through 11 selectable interior light designs. Other standard onboard features include:
Heated front seats, armrests, and steering wheel
14-Way power-adjustable front sport seats with four-way lumbar support, two-way lateral adjustment, and memory settings
Live Cockpit Professional- 12.3-inch instrument cluster and 10.25-inch central info display. Includes heads-up display, navigation, Bluetooth, two USB ports, and 32 GB off multimedia storage
Dynamic Cruise Control
Harman Kardon® 16-Speaker Surround Sound Audio System
Connected Package Professional- includes Real-Time Traffic and On-Street Parking Availability Info, hazard preview, BMW Remote Services
BMW 8 Series Models and Trim Levels
8 Series Coupe
We begin at the most "base," but hardly the most basic trim level. Even at its base appearance, the BMW 8 Series Coupe commands an outstanding performance through its 335-horsepower TwinPower Turbocharged inline six-cylinder (I6) engine. All trims of this coupe feature high-precision direct injections, an air breather system, electronically-controlled engine cooling, and Driving Dynamics Control. All of this technology translates into a driving experience which puts total control in your hands as if you commanded a speeder or hovercar from a science fiction movie. The BMW 8 Series Coupe comes available in three trim levels:
840i: features 335-horsepower I6 engine and rear-wheel drive
840i xDrive: includes the same horsepower with xDrive all-wheel drive for maximum traction control
M850i xDrive: includes all-wheel drive and 4.4-liter, 523-horsepower M Performance TwinPower Turbo V8 engine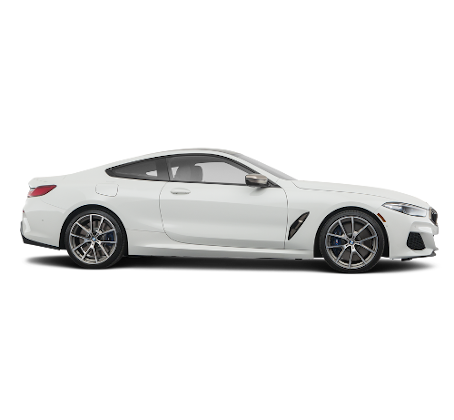 8 Series Gran Coupe
The BMW Gran Coupe takes all of the performance of its coupe predecessor and expands the design a bit more. This Gran Coupe comes made with spectators in mind, offering four-doors rather than the traditional two, and a more spacious backseat area. As with the 8 Series Coupe, the Gran Coupe also comes in three trim levels with the same powertrains and features: 840i, 840i xDrive, and M850i xDrive.
8 Series Convertible
You might see the performance of the 8 Series Coupe and think, "Does it come as a convertible?" BMW heard this question and answered with a resounding "Yes!" In the 8 Series Convertible, you enjoy all the performance and style of the other guys, with that classic open-air experience, brought to you by a black power soft-top with one-touch controls. The 8 Series convertible also comes available with the powertrain options of its predecessors, with standard 335-hoersepower I6 engines and an available 523-horsepower M Performance model.
M8 Coupe
Through the M8 Coupe, we see the potential of the 8 Series dialed up to the maximum setting. Underneath its hood, you will find a 600-horsepower BMW TwinPower Turbo, with a weight-optimized dual exhaust system. This coupe and its convertible brethren come built for speed with a low center of gravity, M Driving Dynamics Control, an adaptable suspension, and standard xDrive all-wheel drive. The M8 Coupe comes available as a Competition Coupe, cranking its speed up to 617-horsepower, with maximum performance.
M8 Convertible
Finally, we arrive at the most prestigious and fastest model, the M8 Convertible. While its speed capabilities enable you to take to the highways outside of Carlisle and flex your muscles, its open-air experience allows you to enjoy the whole journey! On the inside of these M8 models, you will find the most comfortable experience made possible by Extended Merino Leather upholstery, upgrading standard Sensatec of previous models.
Test Drive the New BMW 8 Series Today
We invite you to explore the new BMW 8 Series today here at Sun Motor Cars BMW and experience the thrills of these coupes/convertibles up-close and personal. You will find us located less than an hour outside of Lancaster, PA, in Mechanicsburg. We look forward to meeting you!