NEW BMW 5 SERIES FOR SALE IN MECHANICBURG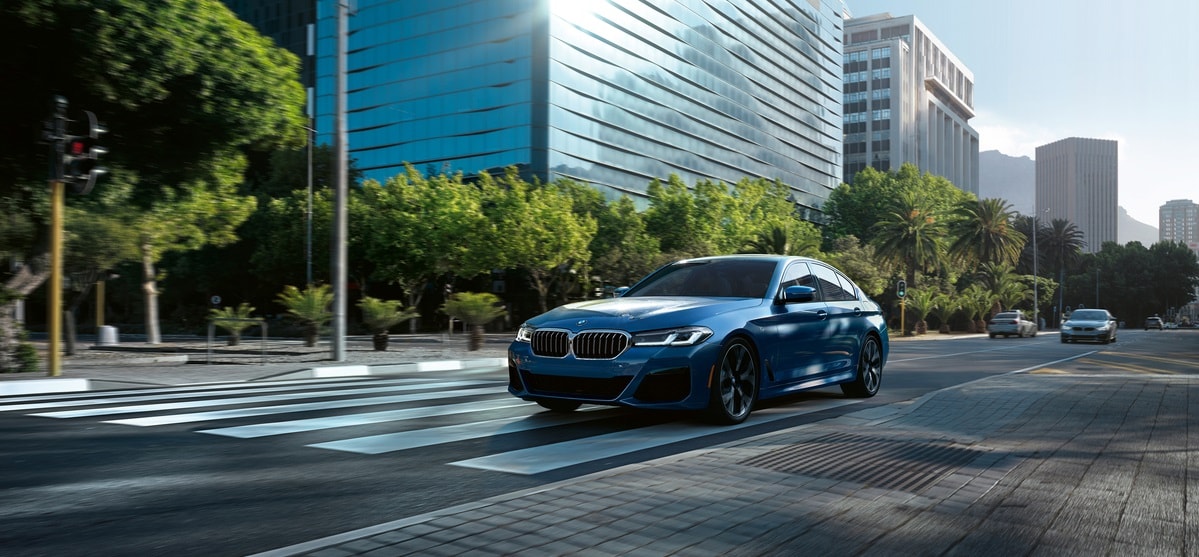 Enjoy Performance and Luxury of the New BMW 5 Series in Mechanicsburg
Over the years, the BMW brand has grown in popularity for manufacturing classy and luxurious vehicles. With the increasing demand for luxury sedans, BMW offers a new 5 series model with slight changes to the previous model year. The new BMW 5 Series is available at Sun Motor Cars BMW near York, PA, stands out in its class due to its wide range of engine options, luxurious cabin, and top-tier technology features. Performance-wise, the new 5 series will impress you with its stability, effortless acceleration, and impeccable handling. BMW removes remote start, wireless charging, and Wi-Fi hotspot from its list of features for the new model. Also, executive packages and parking assistance are available in the M550i trim.
New BMW 5 Series Inventory
Performance Features
For the new model, performance varies depending on the trim you select. All four powertrain options use an eight-speed automatic transmission and pair with a rear-wheel or all-wheel drivetrain. For the 530i and 530i XDrive, you will have a 2.0-liter turbocharged four-cylinder engine that makes 248 horsepower and 257 pound-feet of torque. Acceleration varies depending on the drivetrain, with the rear-wheel model getting to 60mph in 5.9 seconds and the all-wheel model taking 5.8 seconds. The 530e and 530e XDrive have a 2.0-liter turbocharged four-cylinder engine paired with a 107-horsepower electric motor. Expect 288 horsepower from the engine and 258 pound-feet of torque, resulting in an effortless acceleration of 5.7 seconds to clock 60 mph.
BMW loyalists are more familiar with the 3.0-liter turbocharged inline-six engine available in the 540i and the 540i XDrive. It puts out 335 horsepower and 331 pound-feet of torque sent to a rear-wheel or all-wheel drivetrain. Acceleration for the rear-wheel model takes 4.9 seconds, while the all-wheel option takes 4.6 seconds to hit the 60-mph mark. At the top end of the engine options list is a 4.4-liter V8 engine that is only available in the M550i XDrive and will adrenaline seekers with its effortless acceleration, requiring 3.6 seconds to get to 60mph. Expect 523 horsepower and a whopping 553 pound-feet of torque, sent exclusively to an all-wheel drivetrain.
Fuel efficiency and real-world MPG
BMW offers the 5Series lineup in a plug-in hybrid option ideal for eco-minded shoppers. The 530e delivers 64 mpg-e, while the 530e XDrive provides 62mpg-e. The 530i manages 25mpg on city drives and 33mpg on the highway, while the 540i returns the same amount on city driving and 32mpg on highway driving. The powerful V8-powered 550i offers a slightly lower economy rating, with 17mpg on city driving and 25mpg on the highway.
Interior Features
The BMW 5Series has a cozy interior with loads of unique features to enhance your comfort as you enjoy driving across Lancaster. Each part of the model's interior has high-quality materials that give a luxurious vibe. The entry-level model has upscale materials on the dashboard front and rear seats and guarantees a high value for your money. Legroom is abundant in the front and rear seats making long road trips across Carlisle comfortable. Additional features include leather upholstery, powered front seats, automatic climate control, and a moonroof.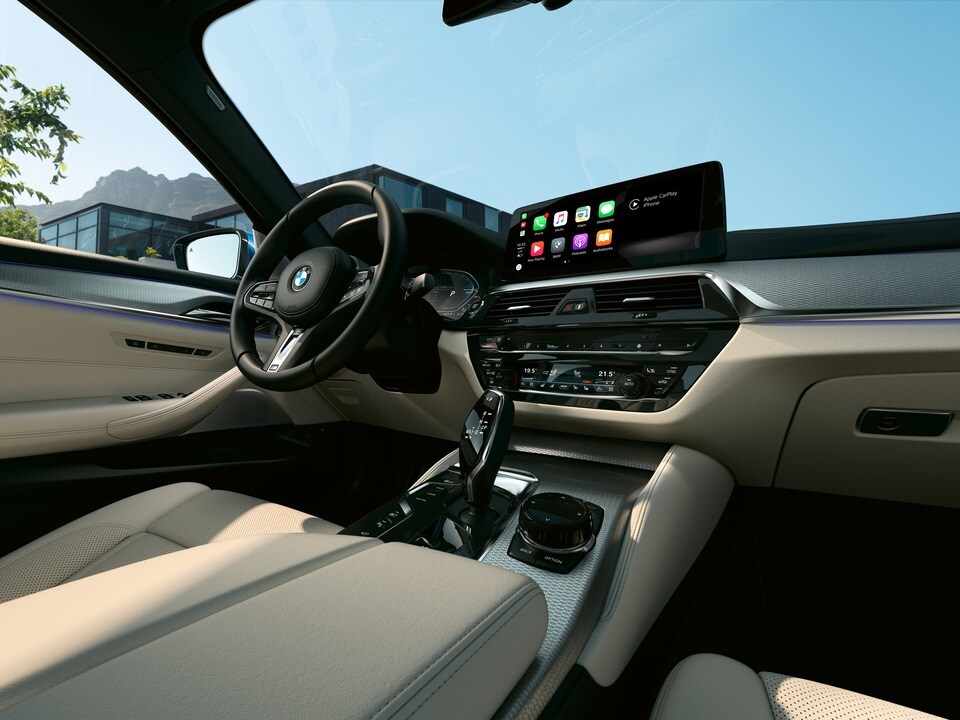 Infotainment Features
Every BMW 5 series has a 12.3-inch floating infotainment display with excellent clarity and no screen glare, even on sunny days. The display supports HD and satellite radio, Android Auto and Apple CarPlay integration, and Bluetooth connectivity. Impressively, the new BMW 5 series has a gesture control option that lets you control your audio without turning physical knobs.
The BMW 5 Series guarantees you maximum value for your money due to its top-tier luxury and high-performance output. Everything from its captivating front end to unique 18-inch wheels shows the model's elegance and leaves passers-by in admiration. Whether you are looking for a sedan for your office commutes to Harrisburg or a performance vehicle, the new BMW 5 series will suit you.