Comfort, Luxury, Performance in the BMW 4 Series for Purchase or Lease in Mechanicsburg, PA
The new BMW 4 Series represents some of the biggest reasons people trust in the BMW brand this lineup of stylish coupes and convertibles are available for purchase or lease at Sun Motor Cars BMW in Mechanicsburg, PA. The new BMW 4 Series places a strong emphasis on comfort, especially if you drive or ride shotgun in one of these coupes. While the 4 Series might not represent the absolute fastest BMW coupes, these models still contribute a strong, yet quiet and effortless performance no matter which engine configuration you choose. Come check one out for yourself today here at Sun Motor Cars BMW on Carlisle Blvd in Mechanicsburg; we are located less than a 20-minute drive outside of Carlisle.
Explore Technology and Luxury in the BMW 4 Series
The BMW 4 Series offers many different looks, but when it comes to showing off the full range of its luxury, you really cannot go wrong with any of these coupe or convertible models. Once you step inside and activate one for the first time, you will know what makes this series a modicum of sophistication as you select the configuration of BMW Ambient Lighting that best reflects your personality and enjoy the comfort of the standard leather interiors with many different available styles in our BMW 4 Series inventory here in Mechanicsburg, PA.
Want to crank up some tunes as you and your friend or significant other take a leisurely cruise out to Lancaster? Each trim level of each BMW 4 Series offers a great selection of technology you will not find on your average four-door sedan. Base trim levels feature a HiFi Sound System, a staple of most BMW models, complete with nine speakers spread throughout the coupe and a seven channel 205-watt amplifier for a bass quality you can set for your needs. Accessing your favorite tunes can be quick and easy through the many standard multimedia technologies of the 4 Series, including:
SiriusXM® Satellite Radio tuner pre-wiring
Bluetooth® Audio Streaming
Apple CarPlay™ with free one-year trial
BMW Navigation with voice commands and Natural Language Understanding, Advanced Real Time Traffic Information
USB Audio Connection Through four 12V power sockets, 20 GB of memory storage for audio files
New BMW 4 Series Inventory
Sorry, we don't have this vehicle in stock right now. Please contact us and we will be happy to help you find what you are looking for!
Reset Search
Strong Performance in Every Model
Through the BMW 4 Series, you will find powertrain configurations that blend speed, performance, and comfort together quite harmoniously. Base 430i trims feature a 2.0-liter, 248-horsepower BMW TwinPower Turbo inline four-cylinder (I4) model whole 440i trims sport a 3.0-liter, 320-horsepower BMW TwinPower Turbo inline six-cylinder (I6) engine. Both engines feature an eight-speed manually-controllable Sport Automatic Transmission with Driving Dynamics Control and rear-wheel drive, but many trims feature xDrive all-wheel drive for maximum traction control. These all-wheel drive trims are clearly marked as such through the addition of "xDrive" on the name badge.
BMW 4 Series Models
The BMW 4 Series comes available in many different varieties: the Coupe, Gran Coupe, Convertible, and the M4 Coupe and Convertible models. Each adds a design of its own along with one extra powertrain option. All models, with the exception of the M4, come available in 430i and 440i trims, with both offering available xDrive all-wheel drivetrain. Let us tell you about each way you can enjoy your luxurious new BMW 4 Series as you cruise through the streets in York.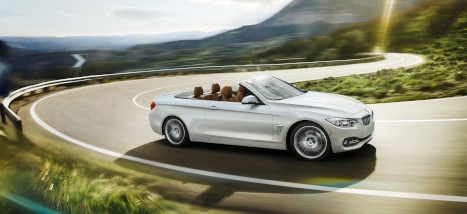 BMW 4 Series Coupe
What sets the 4 Series Coupe apart from most sedans is its two-door configuration with optimal front head and leg room for you and your copilot. Each coupe model features 42.2 inches of front leg room with 33.7 inches of backseat leg room for passengers to enjoy. Despite not having a convertible top, the 4 Series Coupe features a two-way power glass moonroof with a sliding sunshade and one-touch operation, allowing you to feel the cool breeze as you drive to the beaches along the Susquehanna River outside of Harrisburg.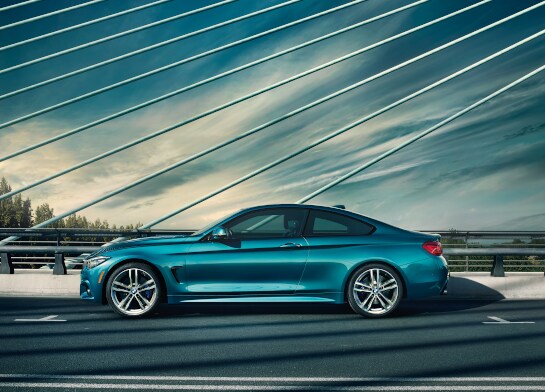 BMW 4 Series Gran Coupe
The Gran Coupe models offers a similar look to its predecessor, but with the additional bonus of having four doors instead of the traditional two. This gives your backseat passengers a more flexible entrance to the car, without having to recline front seats, but with the same amount of leg room and head room.
BMW 4 Series Convertible
Looking to enjoy the pinnacle of "open-air" experience and freedom? Then, the BMW 4 Series Convertible is the right answer for your needs. The athletic style and performance of this 4 Series model is aided by its power-folding retractable hard-top with quick access and an integrated window defroster, preventing outside air from leaving excessive condensation on the windshield. LED headlights and fog lights giver you an optimal line of sight o the road without causing blinding effects toward oncoming drivers.
Check Out the BMW 4 Series Today
Choose your flavor of the BMW 4 Series and come check out any of these stylish coupe or convertible models in-person here at Sun Motor Cars BMW in Mechanicsburg, PA. You can request more information from our sales team or schedule a test drive online, we hope to see you soon!